Mining the opportunities of Block Chain & Bit Coin
Streamed live on 05/10/2016 12:00 am
The digital currency has undergone a vibrant makeover with the evolution of Blockchain, the underpinning technology of Bitcoin. Blockchain and Bitcoin has taken the technology enthusiasts by awe as it revolutionises the way we do business by paving way for open finance. A Blockchain is a public ledger of all Bitcoin transactions that have ever been executed. This ledger is not stored in one place. It is distributed across hundreds or even thousands of computers around the world. It stands proof to all the transactions on the network.
No doubt, this paradigm shift in Business opens door for a gold mine of opportunities that has to be tapped by the developers and companies. The need of the hour is a session that gives awareness of the theories and concepts of Blockchain along with ideas on how to transfigure daily business using it. The October edition of FAYA:80 is designed with the motive of providing insight into Blockchain and build a futuristic eco system in kerala.
Want to know more?? Join us at the 41st edition of FAYA:80 on Blockchain & Bitcoin.
Sessions:
Techbites (Speaker: Godwin T.)
Mining the opportunities of BlockChain & BitCoin (Speaker: Praseed Pai)

Topics Covered:
Basic Concepts of Blockchain & Bitcoin
Scope and Its Limits
Opportunities in Blockchain & BitCoin
Re-engineering Business with Blockchain & Bitcoin
Question Time:
Discussion on the top question raised by the community.
Submit your questions on the following form.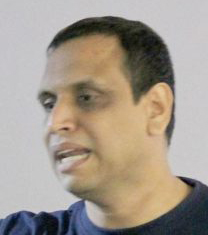 Praseed Pai
Software architect
His areas of interest include Enterprise software development (using C#/.net/Java), Engineering Software development (CAD/CAM/C++), Cross Platform C++ development (Windows/Linux/Mac), Computer Graphics, Computational Finance and Domain specific programming languages. He is the author of SLANG open source compiler infrastructure for learning about compilers. Currently, he is co-authoring a book for packt publishing on .NET Design Patterns. He has taken about 200 presentations on various technology topics.